Published March 07, 2019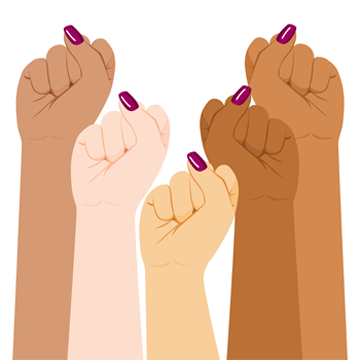 Today is International Women's Day, a day to celebrate all the wonderful women who have impacted our lives. However, let's not forget, there is a woman out there making a difference 365 days of the year. History is full of brave and accomplished women who never gave up on their dreams and beliefs despite the restrictions against them. While there are a number of accomplished women out there (making it quite difficult to choose) we've narrowed it down to 5 incredible ladies who we believe deserve to be recognized.
---
Mary Ann Shadd Cary (1823 - 1893)
The words, "We should do more and talk less", were written in an 1848 letter to Frederick Douglass by Mary, who was 25 at the time. Frederick went on to print the letter, resulting in Shadd Cary's first published work. She was young, fierce, and eager for change. Shadd Cary was the first black woman in North America to edit and publish a newspaper, The Provincial Freedom. She earned a law degree from Howard University, making her one of the first black female lawyers in the United States. As her advocacy continued by teaching for an integrated school in Canada, she also set up a racially integrated school to all who could afford it.
During the Civil War, she worked as a recruiter for the Union Army and later joined the Suffrage Movement where she advocated for women's rights to vote. There's no doubt that Shadd Cary truly showed that she was a woman of her word by backing it with action.
Margaret Hamilton (1936 - present)
If you were ever wondering where the term "software engineering" came from, you're in luck as we have that answer! Margaret Hamilton, the brilliant computer scientist, system engineer, and business owner is the one to thank. It was during her time at NASA, while developing the guidance and navigation system for the Apollo spacecraft that this term was used.
Hamilton's reason for choosing the term software engineering came from her need to fight for "software legitimacy", as she said. She wanted those building the software to be given due respect. She wanted it to be distinguished from other types of engineering yet still be a part of an overall systems engineering process. When she first began using the term people thought of it as entertaining, it was a joke for quite a long time. Despite having not been taken seriously Margaret continued to fight for what she believed in. She never gave up on her career, in fact, she was the one who supported her husband. She continued to shine and break stereotypes made against women. Her effort to make the Apollo 11 mission possible will never be forgotten and was recognized by former President Barack Obama in 2016 when she was presented the Presidential Medal of Freedom award. If there is one thing to learn from Margaret it's to never give up and never allow gender stereotypes to steer you away from any dreams you may have.
Myra Bradwell (1831 - 1894)
While Myra Bradwell is not very well known, she's most definitely an important figure in the history of law and women's rights. She was an American lawyer and editor who was involved in many cases concerning the legal rights of women. She became an editor and the business manager for the weekly, Chicago Legal News, which she founded in 1868. It was the most popular legal newspaper in the United States at that time.
After deciding to practice law and passing the Illinois law exam, she applied for the submission to the bar but was denied submission by the Illinois Supreme Court. Oddly, she was not denied because she was a woman, but instead, she was denied admission because she was a married woman. As a married woman's role was to take care of her family and if she was granted the right to practice law, this meant that it would interfere with her responsibilities as a wife and mother.
Regardless, she refused "no" for an answer and after re-applying and being denied admission for a second time, Bradwell took her case to the United States Supreme Court. Unfortunately, in 1873, they also denied it to her because of her gender. So she continued to work on the Chicago Legal News and practice law without a license. In 1890, the Supreme Court of Illinois granted Bradwell the license to practice law. When receiving her documents, they were dated back to 1869, the original year she applied for her license, making Myra Bradwell the first woman who could legally practice law in the United States.
Wangari Maathai (1940 - 2011)
Wangari Maathai was a Kenyan political and environmental activist. In 1960, she won a scholarship to go to college in the United States and two years after receiving her bachelor's degree, she earned her master's degree in biological sciences at the University of Pittsburgh. When returning to Kenya, she studied and received her PhD at the University of Nairobi, becoming the first woman in either east and central Africa to earn a doctorate. However, Wangari was best known for her environmental activism, where she founded the Green Belt Movement in 1977 which campaigned for the planting of trees, and by the early 21st century, had planted about 30 million trees.
In addition to her environmental activism, Maathai was an advocate for human rights, AIDS prevention, and women's issues. In 2002, she was elected to Kenya's National Assembly, and then elected to parliament and appointed as assistant minister for environment, natural resources, and wildlife from 2003 - 2005. She was later awarded the 2004 Nobel Peace Prize for her contribution to sustainable development, peace, and democracy. This made her the first black woman to win the Nobel Peace Prize.
Zainab Salbi (1969 - present)
"The single thing all women need in the world is inspiration, and inspiration comes from storytelling." These words were said by Zainab Salbi, who has been brave enough to share her story with the world. One that involves war and oppression against women. Zainab was born in Iraq and raised under the watchful eye of the late dictator Saddam Hussein. Her father was chosen to be Saddam's personal pilot and due to this, the family was forced to spend time with Saddam. So we weren't exaggerating when we mentioned she was raised under his watchful eye.
After a long time living in war and under strict rules, Zainab's mother decided it was best to send her to America where she would be arranged to marry at 19. However, in attempts to spare Zainab from the oppression, she didn't realize it would only cause her more pain.
Zainab remained strong and instead of allowing these impediments to get in her way, she used them to her advantage by helping other women.
It was in the 1990s that she and her now former husband discovered there weren't any humanitarian organizations meeting the needs of the women at concentration camps in former Yugoslavia. This inspired them to launch an organization called 'Women for Women International' with the intention of aiding women in war-stricken countries.
Today, Zainab is the CEO of this organization which has helped more than 400,000 women in 8 conflict areas and has distributed more than $100 million in direct aide and loans that have impacted 1.7 million family members. If that wasn't enough, Salabi also found time to write four books, one being a national best selling memoir. She also launched a talk show with TLC Arabia and has won many awards. One being named the #1 Most Influential Arab Woman by Arabian Business.
Zainab is just another example of the impact one woman's drive can have on a generation of women. You shouldn't be afraid to tell your story, just as she has.
Remember, no matter how big or small the obstacle may be, every action makes a difference. These women didn't make it this far without their hard work, passion, and resilience. History did not write their stories, they did! With that said, we encourage all of you amazing women to get out there and tackle your goals because you can!

---
---