Published July 29, 2020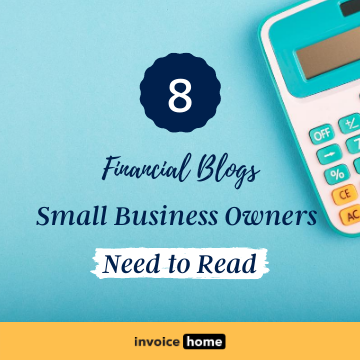 Breaking news: running a business is hard. There are so many different aspects to juggle as a small business owner that it's impossible to be an expert in everything. But one area stands out as the biggest problem for small businesses: finances. According to smallbizgenius.com, 82% of small businesses that fail do so because of financial issues.
At Invoice Home, we know your business is your prized possession, so you should have every resource you need to make sure it's running strong. We've compiled a list of 8 financial blogs (in no particular order) that every small business owner should read.
---
Big Ideas for Small Business
Big Ideas for Small Business is a complete source for tax, legal, and financial information specially developed for small businesses and entrepreneurs. Think of them as your online mentor, ready to help you start up or manage your small business. Their founder, Barbara Weltman, has even been called "the guru of small business taxes" by the Wall Street Journal. Big Ideas for Small Business is your one-stop shop for all things financial. 
Fundera
Fundera is a go-to financial resource for every small business. Their mission is to "lift the fog" off of the financial decisions small businesses face, and help owners understand their options. They've assisted over 35,000 small businesses, and have a dedicated blog to give small business owners the tools and advice they need to grow and thrive.
Evergreen Small Business
Evergreen Small Business is a bit different than the other blogs listed here: all of their posts are written exclusively by licensed CPAs. Any specific or difficult questions you may have, this is the place to look. On top of that, if you have any further questions about a post, the site lists a direct link to contact their professionals. And if that isn't enough, they also list their office phone number to call one of their CPAs for consulting. Their dedication to helping businesses navigate their finances can't be overstated.
Guidant Financial
Guidant Financial is an industry-leader in innovative small business funding. Their whole mission is to help entrepreneurs get the resources they need to start and maintain their own business. Their blog offers plenty of tips for small business owners, and franchise owners. They also offer a wide range of financial solutions, from SBA loans to 401(k) business financing. If your business needs financial guidance, Guidant Financial is a great resource. 
Quick and Dirty Tips
Like their name would suggest, Quick and Dirty Tips provides just that: quick tips for small business owners to help them either at work or at home. For work, they're all about teaching others to manage their money and learn the financial ropes. For home, they'll show others how to manage a work life balance, and stay healthy and happy. And aren't those equally important? Go get some quick tips!
Fit Small Business
Fit Small Business is a leading digital resource for small business owners. They provide content that's clear and easy to understand so that small businesses have the resources they need to succeed. Their financial advice is outstanding, but they're far from just a finance blog. Fit Small Business also has helpful articles to assist businesses with marketing, HR, and project management. Whatever questions you may need answers to, it's almost a guarantee that Fit Small Business has something for you.
Small Business Bonfire
Small Business Bonfire is by no means just a blog (although their blog posts are fantastic). In their own words, it's a "social, educational and collaborative community for entrepreneurs". Whether you're at the beginning of your entrepreneurial journey or a well-established business, Small Business Bonfire is a great destination for entrepreneurs to learn and share knowledge.
Tweak Your Biz
Tweak Your Biz has that rare "mile wide, mile deep" knowledge of all things business. Whatever the category is, they've got hundreds of articles that address it. Their financial section alone is so broad and detailed that it could warrant its own website, which earns them a spot on this list. Head to their site for answers to any and all questions related to your small business.
Reading any of these 8 blogs will help you expand your financial knowledge as a small business owner. So what are you waiting for? Start reading, and start learning!
---

---