Published September 08, 2020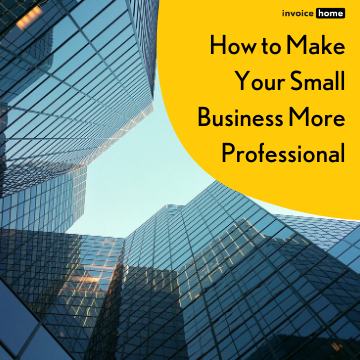 The beauty of starting a small business is that anyone can do it. In the United States alone, there are 30.7 million small businesses, making up 99.9% of the businesses in the country! But with such a large number of small businesses, it's hard to make yours stand out. The best way to stand out is by positioning yourself and your business as a more professional and well-established venture. 
How do you do that? Here are five tips we've put together for you:
---
1. Get a logo (and use it everywhere)
Most of us are better at identifying corporate logos than we are at naming local wildlife. But without a logo, customers and potential customers won't have a visual image to remember your business by. So get a logo, and slap it on everything! Attach it to your invoice documents, put it on your coffee mugs, even tattoo it on your forehead if you have to.
If you want to try your hand at logo creation, but don't have the graphic design skills to manage Adobe programs, try Canva to start. They have loads of logo templates for your inspiration, and the easy-to-navigate platform will be more than enough for most small business needs.
Maybe you're interested in hiring a graphic designer, but you're not sure where to look. Sites like Fiverr and Upwork are awesome for getting in touch with freelance graphic designers from around the world. There's bound to be a designer that fits your needs and budget. Get the logo your company deserves!
2. Maintain a social media presence
Social media has become a necessity for all businesses to have in today's age. According to Coschedule, 72% of customers are more likely to purchase from a business they follow on social media. But with so many social media platforms, how are you supposed to juggle all of them while still maintaining your business?
Our recommendation: find what fits your business best. Facebook is still king when it comes to businesses on social media for the time being, but after that, choose one or two other channels that you feel best fit your business. Want to show off your products visually? Use a visual platform like Instagram. Does your business need to relay real-time information? Twitter can't be beat for posting up-to-the-minute updates. The answer depends on your business's needs.
3. Create a simple website
Despite the persistent movement to a more online world, only about 60 percent of small businesses have a website. That means 40 percent of small businesses are leaving potential customers on the table for their competitors to snatch up! A simple website is easier (and cheaper) to build than ever, and there are plenty of tools out there to help you create an attractive website that gets you customers without breaking the bank.
You don't need to invent the next Facebook. Even a one or two page website showing your business's products and prices is enough. What's most important is that your customers can visit your website and (more importantly) that your website shows up in their internet search results. Don't forget to include a contact link so that customers are able to get in touch with you.
4. Use a custom email domain
What email address looks more professional: "thompsonboatrentals@yahoo.com" or "info@thompsonboatrentals.com"? Obviously, the latter.
Using a custom email domain may seem like a small tweak to make, but can give your small business the professional feel of a company ten times bigger. That bit of extra professionalism can carry a lot of weight with customers! It will also make your email address easier for customers to remember, and will stand out when an email from you hits their inbox.
Always wanted to get a custom email domain but not sure how? Here are 5 ways you can set one up today (for free)!
5. Make your invoices stand out
Whenever your clients receive a document from you, they should immediately know who it's from without having to read it. Make your invoices, receipts, and quotes stand out with hundreds of templates from Invoice Home! Customize them with your logo and signature, send them to your customers, and let your customers pay you easily with payment links!
Having a professional-looking small business is key for standing out among all the competition. Follow these tips so customers know that you're a business they can trust!
---

---