Published January 31, 2019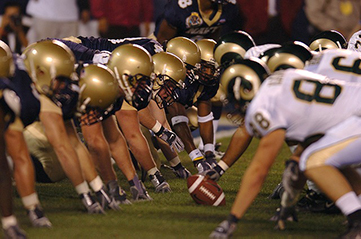 This weekend over 100 million people will tune in to watch the greatest competition of the year: We're not talking about the actual football game between the Rams and Patriots, but the competition for which company produces the best Super Bowl ad. For the past 52 years, the Super Bowl has provided entertainment in the form of comedic and heartfelt advertisements from big names like Doritos, Coca-Cola, and Budweiser. Advertisers go above and beyond to produce their best advertisements for this one event but at what cost?
---
CBS, the channel that hosts the annual pigskin party, divulged that one 30 second advertisement will run businesses a cool $5.25 million this year. With some quick math, that boils down to a whopping $175,000 a second! You might think that sounds normal given that Tom Brady is paid $41 million to deflate footballs, but Super Bowl advertisements have been climbing in costs faster than even the most nimble running back. Case in (game) point, the first-ever Super Bowl in 1967 ran ads that cost a meager $37,500.
So exactly how expensive are your favorite ads? We think you'll get a kick (or punt) out of the most expensive Super Bowl commercials of all time:


With the average price of a bottle of 20 oz Coke being $1.99, Coca-Cola would have to sell 4,000,000 bottles just to break even on this advertisement. Being the only commercial on this list to not feature a big named celebrity, Coca-Cola decided instead to focus on the everyday faces of Americans, showcasing different ethnicities, religions and cultural groups found in the USA between shining seas. Instead of selling a pipe-dream to their customers, Coca-Cola instead celebrated the diversity of their consumer base- which has proven to be just as expensive when everyone under the sun drinks a Coke or two.
Kia "Matrix" (2014) - $8 Million


Kia's advertising team definitely chose the red pill here as they went all out for this commercial. With fireworks, exploding lights, floating cars and, well, an entire alternative reality, this commercial starring Laurence Fishburne's Morpheus is a flashback to one of the most successful (and expensive) movie franchises of all time. What better way to introduce a new car model than with a callback to everyone's favorite sci-fi thriller?
Being one of the most expensive car makers out there, it's no wonder that Jaguar spared no expense in their Super Bowl commercial. Creating a mini-movie instead of your traditional commercial was no small feat money wise, and stars Sir Ben Kingsley, Tom Hiddleston and Mark Strong no doubt added to the luxury price tag. Are you surprised that one of the most expensive commercials for an American pastime comes from jolly old England?


Just short of the number one commercial on this list, this Bud Light commercial isn't short on star power. Featuring Reggie Watts, Minka Kelly, Don Cheadle, Arnold Schwarzenegger, and the band OneRepublic, this 1 minute and 30 seconds is filled with A-list celebrities and an A-list price tag to boot. However, since beer is heavily consumed during the big game we're more than sure that Bud Light scored a touchdown with this ad and made back their expenses.


The honor for the biggest paycheck spent on the big game goes to Chrysler, a company which calls Detroit home. Featuring rapper Eminem and a two-minute runtime, this advertisement features all of the sights of the rapper's hometown while cruising around in a classic American-made automobile. This is more than just your average commercial however as the 120-second video acted as a game changer for the city of Detroit- a city wrought by unemployment and high crime rates. Since 2011 the city of Detroit has gained in popularity and the auto-industry has seen an incredible resurgence.
---
While it may seem that these prices are astronomical, keep in mind the awareness that a brand receives when airing a Super Bowl ad can reap more rewards than just direct sales. It's reported that new brands can receive an increase in brand awareness of 36% just for 30 seconds of airtime-not to mention the advertisements are widely talked about by sports fans, marketing fans, and people who think Doritos ads are funnier than SNL skits.
Do you have money set aside in your business (game) plan for advertising? Could you ever fathom spending 240 times the average US salary on a 30-second commercial? Even though these prices may seem out of reach, it's no doubt the importance of creating quality advertisements for bringing in new customers. And when you bring in thousands of new customers with your next advertisement don't forget to stay up to date on your invoicing with Invoice Home. Invoice Home helps you get paid, especially when you just paid an arm and a leg on advertising.

---
---