Published April 26, 2017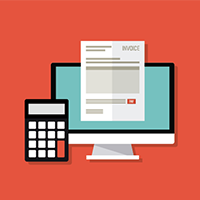 © Jemastock /Adobe Stock
If life were perfect, a whole invoice would be paid in one payment; unfortunately, that's not the case. Not to worry! We have a step-by-step guide on how to update your partially paid invoices.
---
Creating a Partial Payment
Sometimes, a client pays an invoice little by little before the due date. To accommodate this approach, you have to create partial payments. Lets says your business is a flower shop and you have a client that pays bimonthly to get flowers for his wife. He pays half mid-month and the remaining at the end.

There are two ways to show this through Invoice Home.
The First:
I add the flowers and the price then I click 'add a tax'


I write the "tax name" as Partial Payment and for the "tax" I put -50.
And it appears on the invoice, changing the original.
And your dashboard will just update the price due:
The Alternative:
The other option is to go to the payment tab and click 'Edit Payment'. Here, you can add the date that the customer paid as well as how much of the original invoice was paid. The invoice will update saying it was partially paid.


The second option doesn't show on the original invoice as the first does.

However, it will show on your dashboard:

So it's really up to you what you prefer!
For both:
At the end of the month, when he pays the remaining balance, I simply go to the payments tab...


And click 'set as paid'. If he pays electronically, please see
https://invoicehome.com/blog/get-paid-faster-with-payment-links-heres-how
for setting up payment links, it will automatically be marked as paid for me.
Happy Invoicing!!

---