Published December 01, 2020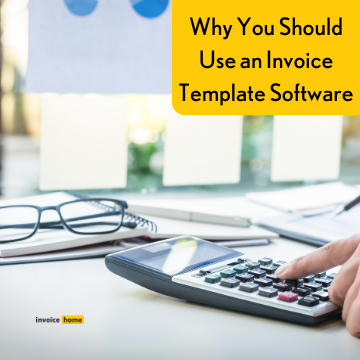 Creating an invoice can be overwhelming and time consuming, especially if you're not an accounting expert. 
Here's how using an invoice template software helps you and your business thrive. 
---
1. Save Time
As a small business owner, your time is valuable. When you have to juggle so many responsibilities, it's important to save time wherever you can. Using invoice templates allows you to create invoices to bill your customers in a fraction of the time.
With Invoice Home, you can create an invoice in just 30 seconds! Don't believe us? Here's the proof.


2. Save Money
The only thing more valuable than time as a small business owner is money. If you're not an accounting expert (and let's face it, who is?), it can be daunting to create invoices for your company. With an invoice template software, you don't need to spend money on an accountant to create invoices for you. 
Unlike most invoice template softwares, Invoice Home offers both a Free Plan and an Unlimited Plan. The Free Plan allows you to make as many invoices as you need, up to $1000 of documents per 30 days. So if you're a small business or just starting out, the Free Plan is perfect for you! If you do ever need to create more than $1000 of invoices, the Unlimited Plan allows users to create unlimited documents for the low cost of $5 per month (or local equivalent). 
3. Personalize Your Invoices
Everyone is looking for ways to stand out. When you use an invoice template software, you're able to add your business's logo, signature, and colors to the invoice. Branding and personalizing your invoices like this will show your customers there's a real person behind the business, as well as help you to stand out from the crowd in their mind. 
Here's a full list of all 100+ invoice templates that Invoice Home offers your business.
4. Increase Your Professionalism
Let's do a quick test. Which of these invoices looks more professional and polished?


Obviously the second one. When you use an invoice template, your business gains a level of credibility just by having a professional appearance. 
Head over to this post for a full list of ways to make your small business more professional. 
5. Organize Your Documents
Remember filing cabinets? Neither do we. With Invoice Home, all of your documents are automatically organized for you. You can choose to view your documents by customer, document type, date, payment status, and more.
For more information on how to break down the way you view your documents check out this blog post on using "My Reports" as statements.
6. Send Invoices Easily
Printing out and delivering invoices via snail mail is a thing of the past. With an invoice template software, you're able to easily email documents to your customers directly. We've put together a step-by-step guide on how to send your invoice via email, including when you should send, how you should send, and what to do before you even send the invoice.
Of course you can still print invoices on paper, but why not go paperless if given the choice? We've put together 5 big reasons you should choose paperless invoicing.
7. Get Paid Digitally
The worst part of invoicing is waiting for the customer to pay your outstanding invoices. You just hope they input your bank information correctly, or wrote down the correct amount on their check.
With Invoice Home, you can get paid digitally in seconds. You can choose to include a payment link when you send your invoices, allowing your customers to pay you via PayPal or by card in just a few clicks. 
To learn how to get paid faster and enable payment links, click here!
---
These are just a few of the many reasons to use an invoice template software. Click here to create your first invoice with Invoice Home.

---