Published September 10, 2015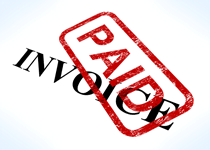 © Stuart Miles /Adobe Stock
Sometimes an invoice is paid by cash or wire transfer and you want to set this invoice as paid manually. How to set invoice manually as paid?


---
1. Sign in to Invoice Home and open your list of invoices:

2. Select the invoice to be set as paid and click "Paid Amount":

3. On the 'Payments' tab click the "Set as Paid" as shown:

4. If you wish to change the date, or Amount, click "Set as Paid":
Alter the date, or Amount, and click "Save".



Done! You are free to change invoices back to 'Unpaid" any time. Please note that invoices paid online are marked as 'Paid" automatically.

---