Published October 09, 2015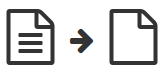 You can save yourself a lot of work by using the "Copy" button. How? Easy as pie! How to copy an invoice to create a new one?
---
1. Sign in to Invoice Home and open your list of invoices:

2. Select the invoice to copy
Select an invoice similar to the one you'd like to create (the same customer or similar items) and click the the invoice number:

3. On the Invoice Detail screen click the "Copy" tab:

4. Click "OK, Copy Invoice" button: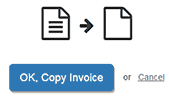 Done! A new invoice number will be generated automatically and the invoice date will be updated. You are free to make any changes or updates to the new invoice you'd like.

---