Published July 23, 2018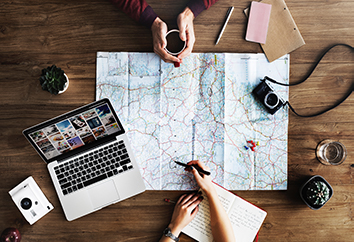 You've worked everyday for the past year without taking a vacation. You dream of snorkeling in Spain, hula-dancing in Hawaii or trekking in Tibet. But what if your job allowed you to be on vacation everyday?
Since 2014 the job market has exploded with "digital nomads"- people who fund their traveling by working online as bloggers, web designers or even managing social media accounts (who doesn't get lost in wanderlust from travel Instagrammers?) While it may be an easy decision to quit your corporate 9-5 to live the good life, with over 4,416 major cities in the world how can you possibly choose where to work? We've broken down 5 of the top cities for digital nomads (as listed by nomadlist.com) by cost of living, lifestyle and most importantly wifi potential that will encourage you to hit the road and leave your cubicle in the dust.
---
Chiang Mai, Thailand- For Energetic Entrepreneurs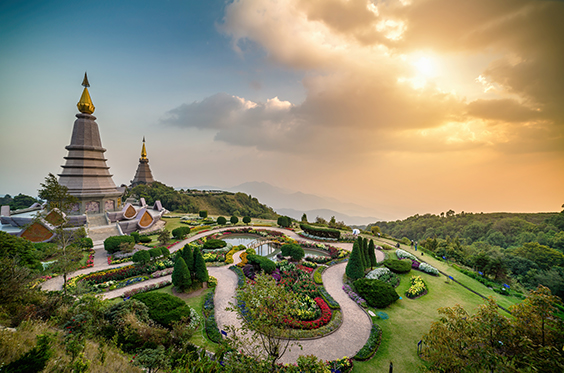 © phaitoon /Adobe Stock
This city is synonymous with the digital nomad lifestyle-and it's easy to see why. Chiang Mai has ranked in the top 3 cities to work remotely since the secret of online work made its way to the public. With mountainous terrain, traditional festivals and an internet cafe or two (okay or dozens) Chiang Mai is perfect for those who wish to do a complete 180 and hustle without the hustle and bustle of a big city.
Cost of living: There's a reason why Asia is at the top of every digital nomad's list and that's because of cheap and good living. The cost of living (at time of writing) is listed at just $927 per month which is probably less than half of your rent, car payment and daily Starbucks trips combined. The best thing about digital nomad life is that you set how much you want to get paid for your work so you can set up shop and then shop til you drop once the money comes pouring in.
Lifestyle: With a population of just 131,000 Chiang Mai is the smallest city on this list but makes the biggest impression. The warm weather, tropical foliage and mountainous terrain mean perfect weekends for hiking, cycling and even elephant rides. If you're missing the city life (and who would with views straight out of the 14th century?) Bangkok is only a 1 hour flight away.
Wifi: Most of Southeast Asia has capitalized on the digital nomad trend meaning wifi and places to work are plentiful. Within the city center there seems to be hubs and coworking spaces on every corner.
With a low cost of living, outdoor based lifestyle and extraordinary fast wifi, Chiang Mai is the perfect city for you to stay on track with your online work while living off the beaten track.
Barcelona, Spain- For Metropolitan Mavens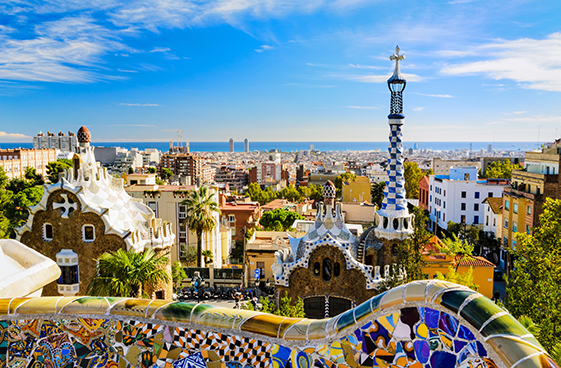 © Mapics /Adobe Stock
I'm sure I don't have to introduce this city to you as it's reputation for amazing architecture, fabulous food and, most importantly, its football team precedes itself. But you probably aren't aware of the possibilities this city holds for online work. Users on NomadList gave Barcelona a perfect all around score giving the city its prestigious #1 rank. If you've always dreamed of living (and making tons of money) in a vibrant European city then Barcelona should be at the top of your itinerary.
Cost of Living: Even though it's always sunny in Barcelona, this category is where the city doesn't shine as bright. As of 2018 the cost of living for the Spanish metropolis is $3,230 per month, more than triple the cost of most Asian cities. However when you compare Barcelona to other Western European cities such as London or Paris this amount seems like a steal. When you factor in the city's excellent public transportation and universal healthcare benefits your life in Barcelona will be smooth sailing.
Lifestyle:If there's one thing the Spaniards know how to do it's how to relax. In fact, Barcelona was named the second best in the world for work-life balance (only behind high tax paying Denmark). With clear blue beaches, cafes on every corner and dedicated siesta time Barcelona is perfect for the hard working freelancer who doesn't want work to overtake their lives.
Wifi: Public internet is not as readily available as other European cities but this doesn't mean you have to sign up for an expensive international data plan. An international place for business, Barcelona is chock full of hubs and cafes for you to work in and admire the Spanish architecture.
With a relaxed atmosphere but trendy city vibes Barcelona is the perfect balance between work and play so if you want to give the digital nomad life a test-drive where else could be more perfect?
Budapest, Hungary- For the History-Buff Businessperson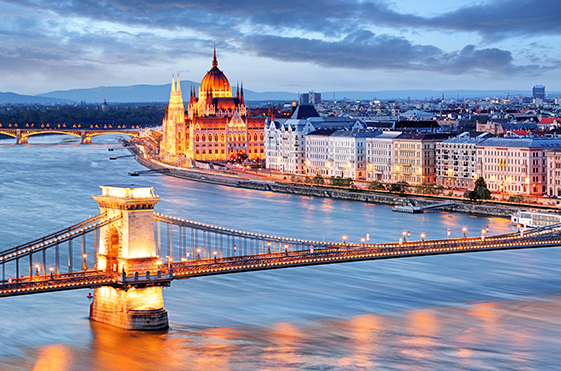 © TTstudio /Adobe Stock
If Barcelona is a bit too above your budget then Budapest is your best bet. Featuring historic palaces, basilicas and thermal baths that make even Romans jealous, it is easy to see why Budapest is named one of the most beautiful cities in Europe year after year.
Cost of Living: If there's one big advantage Budapest has over its European sister cities it's price. Nomadlist states the average cost of living in the Hungarian capital as $2,140 per month, more than $1,000 less than Barcelona. Delicious street food and famous Hungarian wine for cheap mean that you won't be a starving artist anymore.
Lifestyle: Budapest is actually a combination of two cities: Buda and Pest (who could have guessed?). But what most don't know is that Budapest is also a combination of modern and traditional. You can walk down the streets and see churches dating back to the 11th century or you can walk through the ultra modern sports arena. During the day Budapest baths are reserved for traditional bathing and relaxation but come to the waters in the evening for sparty parties complete with djs, strobe lights and backpackers looking for a good time.
Wifi: The highest internet speeds on this list belong to Budapest boasting 37 mbps. Even better, most cafes, restaurants and shopping centers offer wifi for free so you can work while chowing down on your goulash.
If you travel long and far to see ruins, grand government buildings and art-nouveau architecture consider making Budapest your next home. With a large network of digital nomads reporting satisfaction in Budapest you're pretty much guaranteed to not ruin your career.
Ho Chi Minh City, Vietnam- The Biggest Bang for Your Buck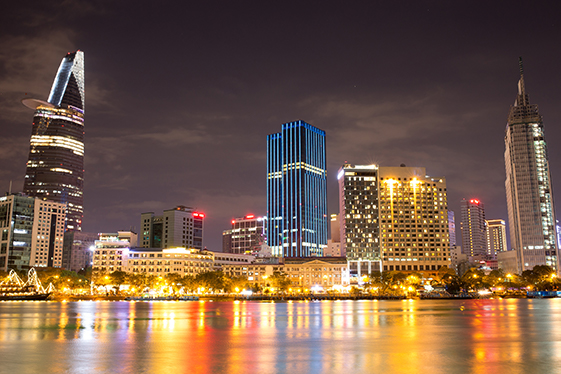 © duydophotography /Adobe Stock
Looking for a safe bet to better your online career? Look no further than Ho Chi Minh City which sits at number five on Nomadlist. Typically modern skyscrapers come with sky high rent but not in this metropolis.
Cost of Living: The cheapest on this list, Ho Chi Minh clocks in at only $906 per month for single nomads. Everything you need for day to day life- rent, food costs, occasional shopping sprees- are cheaper here than every other city with a population over 1 million. Living costs have been on the rise in recent years so it's best to make the move before more find out about this freelance paradise.
Lifestyle: Being a former French colony, the city retains its European influence decades later. The municipality is interspersed with French style cafes and has adopted the joie de virve lifestyle. Ho Chi Minh city is also the center of Vietnamese street food (and Chinese and Thai and Southeast Asian) meaning you'll never go thirsty or hungry.
Wifi: A large amount of digital nomads means that internet speeds are slower than most hub destinations. While you might not be able to connect your desktop to the internet while you're at the deli there are plenty of designated workplaces for you to join.
Ho Chi Minh City is where East meets West so it is the best of both worlds. If you're just starting off as a freelancer and have a limited savings but want to experience different cultures then why not start here?
New York City, USA- For Our North American Friends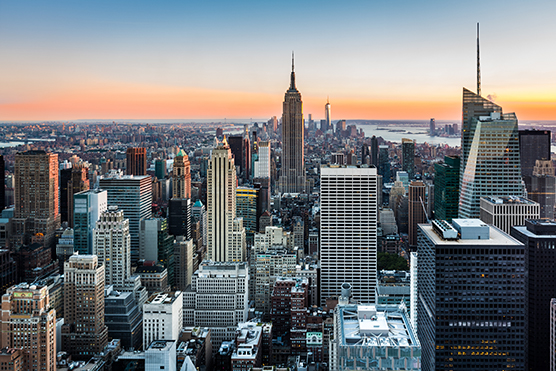 © mandritoiu /Adobe Stock
Wanting an adventure but don't want to move halfway around the world? New York is perfect for your new hustling lifestyle- it is the city that never sleeps after all- and provides excitement without you having to rely on Google translate on the daily.
Cost of Living: Predictably, New York does not fare too well when it comes to living costs and digital nomads aren't immune to high rent and food costs. Currently, as of 2018, the cost of living for freelancers is $5,025 per month so you'll have to stay on the grind to stay afloat. If you can stomach a roommate or two (or three or four) you can at least afford a dollar slice a day.
Lifestyle: Cutting edge music, art and technology put NYC at the center of the universe. If New Yorkers are famous for one thing, besides their accents and disdain for tourists, it's their hard-working mentality. The fast paced lifestyle in all boroughs will encourage you to work fast and efficiently, which means that you'll make your rent money in no time.
Wifi: Because of a large influx of startups, the city has seen a boom in the number of coworking spaces and hubs. If that's not your style there are plenty of hipster cafes to pick from to get your fix of both the internet and drinks served in lightbulbs.
With this list you can't go wrong with whichever city you choose as long as you play hard and work harder. All you need is excitement, passion and, of course, wifi to make it big as a digital nomad. Another thing you only need wifi for? Creating and sending bills to your clients after you've made your decision on where to work. Use Invoice Home on your desktop or our Google Play app to generate invoices and get paid in minutes for your work so you can do even more traveling.

---
---